The Summer 2018 collection from
Moonalisa
was released in April, and my order arrived today! If you're unfamiliar with the brand, don't worry - they have a total cult following, and seasonal release dates instead of keeping a general catalog on hand makes it difficult to start trying the products - but they are worth it!
I suggest signing up for the
newsletter
so you know when the next release will fall. There are also
Potion Lotions
(a great lightweight moisturizer) and
Milk Bath
left. The Summer 2018 scent catalog is
here
for your convenience. From what I can tell, there are certain scents that are seasonal, and others that can show up year-round, which also makes it hard to choose! I've just gone with a handful of favorites that I order whenever they show up.
This time around one of my very favorites, Duchess of Willowdale was available! You may have seen me mention this product on Instagram - I had it in the Ultra Whip from two winters ago, which was a much lighter format. This time I ordered the Crazy for Cocoa Cream because I felt the mild cocoa scent would complement Duchess of Willowdale, and it does!
Duchess of Willowdale is described as "
reminiscent of old Victorian parlors: honey, Amber, and pipe tobacco, but with added notes of deep, dark, rich chocolates
." It is a delicious gourmand scent that definitely works year-round. I wish Moonalisa had released the Ultra Whips this past winter, but alas. No such luck. The Cocoa Cream is decadently rich, however, and feels ultra moisturizing - something I really need in summer as my skin dries out with this Las Vegas sun!
Included was also a sample of a new? product that I hope will be forthcoming - The Jello Blob Jelly Soap. Whatttt? My last experience with bathtub "gelly" products didn't go over so well, but this stuff looks... well, it looks kinda bomb.
I have it in the scent "Jello Shots" which is apropos and smells exactly like it sounds. A kind of cherry/fruit punch hybrid that makes me appreciate the DO NOT EAT warning on the label, lol. I'm not sure if this scent is the only one that they have made for this product, but regardless, I am super eager to try it out, and I hope it works well, because I'd love to buy more when they are released! (Of course, that's assuming this product will be for release, which I do not know, as I did not reach out to Moonalisa for confirmation. If it was just a fun bonus then, I am SO glad I ordered in this round!)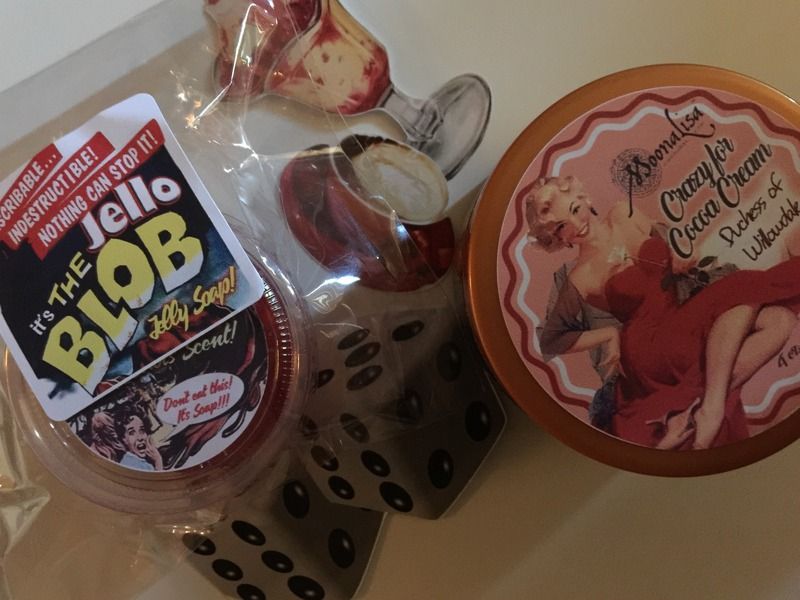 So there you have my (tiny) Moonalisa haul. One of these days I will pick up one of her perfume oils or sprays, but there are so many great product choices, it's pretty hard to narrow down the list! Some of my recommendations include:
Potion Lotion
4in1 Shower
Argan Oil Hair Rescue
Ultra Whip (when offered)
If you decide to snatch up a Potion Lotion or Milk Bath before they're gone, some of my favorite scents are:
Duchess of Willowdale
Pineapple Express
Blue Milk
Just remember that not every scent is available in every format. Now I'm going to go lather up with a jello shot, and then slather myself in chocolate-y goodness. Toodles!